Commercial Roofing Consulting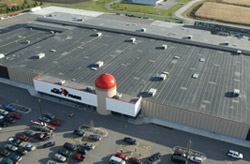 Over the years we have gained an extensive understanding of roofing and waterproofing systems. This expertise combined with our reputation for honesty makes us a useful resource for building owners. That is why Lyle & Associates does commercial roofing consulting for Atlanta and all the surrounding areas.
If you're having a problem with your roof and you're not sure why, give us a call and we'll help you analyze the situation and recommend a course of action. Maybe you're roof is still in good condition, but you need to know what kind of maintenance is required to keep it that way. Lyle & Associates can advise you on what things to keep an eye out for and help you keep your roof in working order for as long as possible.
Considering investing in a new property and want to do your due diligence before making your purchase? Call Lyle & Associates and we'll look over the roof with you and give our honest opinion of its condition. We can provide an estimate of what maintenance and repair costs to expect to help protect you from dishonest roofing contractors.
Of course we would love for you to use Lyle & Associates when it comes time to perform any roofing work we discuss, but using us for a roofing consultation in no way requires you hire us for more. We will not pressure you or be dishonest in any way in our consultations. We simply provide our honest, professional opinion.
---
Call
404-317-7791
or
contact us online
for more information on our Roofing and Roof Consulating Services.
---
Serving the Atlanta, Georgia area including Roswell, Marietta, Smyma, Sandy Springs, Johns Creek, Lawrenceville, Athens and Gainesville.